Online blackjack is available all over the world, with both free play practice blackjack and real money casino blackjack common-place. All of the best online casinos in the world, will have various blackjack games, including live blackjack and random number generated blackjack formats, which often have different rules to spice up the gameplay.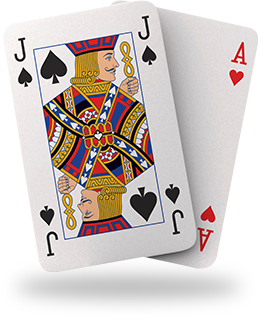 Our top online blackjack casinos for 2023 are:

Best online blackjack sites
Blackjack is the no.1 casino game in the world and, if played by the standard rules, it boasts one of the lowest house edges, giving us the best chance of winning. Our team is here to provide you with everything you need to know about the game of 21: the basic, intermediate and advanced strategies associated with maximising your chances of victory.
Blackjack.com.au was founded by a group of gambling enthusiasts and journalists who are passionate about all things 21 and the various offshoots associated with our favourite game. It is our goal to provide you with an easy-to-access blackjack portal which allows you to make informed and intelligent decisions, based on facts, rather than luck.
---
---
Best International online blackjack casinos
Online blackjack is one of the staples of online casinos, with many countries around the world having regulated and legal online gambling available. The best international online blackjack sites are based in places like the United Kingdom and Malta, and feature many more types of blackjack and table limits, then blackjack games you would find at casinos.
Our guide to online blackjack will teach you everything you need to know to successfully play from wherever you are in the world, including run you through some of our favourite variants of blackjack online, live blackjack and where to play, table limits, rules and of course, important things like what deposit options and licenses specific online casinos have. \
Live blackjack at online casinos
Live blackjack, or live dealer blackjack, is the no.1 way to play real money blackjack online, with live casinos having changed the face of online gambling forever. In short, live blackjack is when you watch the game unfold via a video feed from a casino or iGaming studio, and you can place your bets via a clickable table, also on your screen.
It's one of the pitfalls of playing blackjack online that it lacks a social element, but this facet is constantly improving. Many of us still like the authenticity of being dealt cards by live blackjack croupiers, which is why we will take the time to journey to a land-based casino.
Game developers are constantly developing new ways to make it more interactive; it started with a basic live video feed of your blackjack dealer throwing the cards down on a table. Now you can interact with the blackjack dealer and other players, you can play side games in between hands and most importantly you can feel wanted.
This is not to say every live blackjack provider is worth playing; like all things, there are good and bad eggs in the basket. Blackjack.com.au recommends these blackjack software companies' live casino platforms:
Just like at a land-based casino there are high standards associated with these 'live dealer hubs' which are enforced by independent auditors and implemented by pit bosses. Independent iGaming auditors like eCOGRA monitor every aspect of these live blackjack games, and you can rest assured they are a high standard at the best blackjack sites.
Mobile blackjack sites
Playing blackjack games on your mobile device is a popular way for people to gamble on the go.
Blackjack development companies have seized the moment and have pumped millions of dollars into the development of real money blackjack games for mobile iGaming.
It is amazing how quickly the mobile platform has developed, from its humble origins when a few real money slots were rolled out by Microgaming less than 20 years ago, to the industry it has become.
Most of the world boast regulated markets and license casinos in their own jurisdiction, meaning businesses are pumping legitimate money into developing really cool features for online casinos, including mobile blackjack.
The latest in mobile blackjack play has been the emergence of live dealer with various software companies seeing the growing opportunities on offer in this space. While the streaming can lag on a 4G connection, the newer Android and iOS devices (that we use) 4G connections are sufficient to enjoy live dealer blackjack (roulette and baccarat) from your smartphone or tablet.
---
Online blackjack tournaments
Are you looking to hone your skills in competitions to show dealers and other players how playing blackjack is really done? Keen to win even more money? The BJ tournaments are where we can play against other players and dealers with huge cash prizes to be won.
These daily and weekly tournaments are offered in the following formats:
Free roll tourneys: No cost to enter, simply join in and have fun.
Buy-in tourneys: Buy a virtual seat (usually higher in stakes) and compete until one player remains.
Sit & Go tourneys: You start when enough players join the table and can hop up and leave at any time.
Pre-set tourneys: Scheduled tournaments starting at specific times.
These tournaments having varying buy-ins and sociable games available from our computer or mobile device. With huge central cash pools, plenty of awesome bonus prizes, and backed by the International Blackjack League, such tournaments have all of the variety and excitement of land-based blackjack tournaments.
---
Blackjack strategy
Blackjack.com.au takes great pride in being the authority voice on all things 21. This means we have many strategy guides, whether it be on if insurance is a smart bet, or what to do when a dealer has a certain up card. We deal in facts rather than gut feelings. You can read plenty more about blackjack strategy, including 100s of different articles detailing the best and worst gameplay.
---
Online versus land-based blackjack
The online blackjack arena is more than just a virtual substitute: it's a growing, viable platform and has a significant amount of advantages over its land-based counterparts. The technology behind such software is constantly evolving and becoming more sophisticated; there is increased accessibility and convenience of play in the form of mobile and tablet gaming, more variety in game types and rules and you can play live dealer, which is a crystal clear stream of someone dealing your cards.
Online casinos have lower house edges due to the lack of overheads, and because of the many diverse variations they offer — games you would not find at land-based casinos. Ample low-stake and high-stake games are available to suit every type of gamer. Which cannot often be said about land-based casinos, with $25 the minimum per hand if you want to play standard rules at Melbourne's Crown Casino. Online you can play for as little as 50 cents per hand.
All of these advantages have closed the gap between online blackjack and the land-based equivalent.
There's no doubting the great energetic atmosphere, ambient music and presence of lively companions at a brick and mortar casino while playing a game of blackjack. For many people, the concept of playing blackjack anywhere but in a grand casino is an alien one, and replacing the table, dealer and other players with a computer screen and a mouse is still something many gamblers cannot fathom.
But the nature of gambling is forever changing – and fast, too. We see this with sports betting, and are seeing it more and more with the hundreds of available and secure online casinos. If you're keen to get started at one, you'll want to open an account with the best and safest gambling sites, and we are here to assist you in finding the ones which suits your personal preferences.
Benefits of online blackjack
Accessibility
Better Payouts
Lower Minimum Bets
Privacy
Organisation
Graphics, Themes & Ambient Sounds
Check out our in-depth feature about online blackjack advantages, too.
---
Real money online blackjack
Playing online blackjack has become a very popular past time, but with it have come some angst, with many governments around the globe cracking down on offshore online casinos offering their citizens services. While Australia has strict laws canvassing online gambling many of the surrounding countries like New Zealand, Fiji and Papua New Guinea (Best PNG blackjack sites) still allow their residents to gamble legally online.
If you are legally able to play online blackjack there will be a table at the top of this page, which is geo-targeted for you convenience. You can also access reviews of each casino and other information in the table. Our online casino guides are also easily accessible via the menus, with 100s of real money blackjack guides written by our experts.
Real money online blackjack is the no.1 game at online casinos in many countries around the world, and pre-ban of online casinos, blackjack was the biggest game at Australian online casinos.
In 2023, the only option to play real money blackjack in Australia, is to play at a land-based casino; or to play at an illegal overseas gambling site, which is not ideal. The illegal real money online blackjack available to Australians has a bad reputation amongst the public, largely through the Government targeting sites like Emu Casino with geo-blocking. The reality is Emu Casino does not provide a bad service to Australians, it is simply breaking the law.
While this is not really relevant to Australians anymore, when playing blackjack online for real money one of the most important things is the ability to fund your account. How you go aboutdepositing at online casinos will largely come down to where you are based in the world. For instance in regulated markets like the United Kingdom credit cards are the most common method, but in places like the USA you might have to try a little harder to deposit.
Common online casino deposit options:

---

Blackjack variations & rules guides
While blackjack is a simple game to learn, there are many different variations that can throw up rules that are different. Blackjack.com.au has done the hard yards for you and done guides for many types of real money blackjack.
---
Australian casinos – Where to play blackjack down under

Australia is home to some great casinos with Melbourne's Crown Casino probably the no.1 gambling venue in the country. Having said this, the Sydney Casino has undergone a transformation in recent years and is greatly improved, and we can't wait for the launch of Barangaroo Casino in Sydney with it estimated to open in 2021.
Victorian casinos:

Crown Melbourne Australia has some famous casinos, none more so than Crown Casino in Melbourne, which is famous for dominating the landscape by the Yarra River and of course for its gambling. The Mahogany Room has established itself as THE high rollers venue with the famous and wealthy flocking to it from all over the world. It is the only casino in Victoria.

NSW casinos:

Sydney Casino owned by SkyCity Entertainment Group and is a popular gambling venue in the heart of Sydney. Has many great gigs and restaurants flanking the gambling facilities. It is the only casino in NSW but there are other forms of gambling allowed in pubs and clubs like pokies.

Queensland casinos:

The Star Gold Coast (formerly known as Jupiters) is probably the most well-known casino in Queensland, but there is also the more central Treasury Hotel and Casino in Brisbane. The Pullman Reef Casino is in Cairns and the The Ville Casino Resort is in Townsville.

Western Australia casinos:

Out West has some of the most restrictive land-based gambling in Australia, with Crown Perth the only place in WA you can play Keno. Enough of that though, Crown has plenty of blackjack and other tables games.

Tasmania casinos:

Wrest Point in Hobart is the pride and joy of casino's in Australia's smallest state. Well-known poker player David Walsh has built a limited casino at his Mona art gallery.

South Australia:

The Adelaide Casino is the no.1 gambling destination in South Australia. It is situated in the centre of Adelaide, easily accessible by public transport.

Northern Territory:

The NT has two casinos, with the Crowne Plaza in Alice Springs, while SKYCITY Darwin is another member of the Star Entertainment Group.
---
Blackjack games in Australian casinos
Every Australian casino features blackjack and it has long been regarded as the most popular game at these venues. If you walk into Crown Melbourne you will see over 50 blackjack tables on the floor. These tables will range in value from minimum $10 per hand right up to tables worth $10,000, or even more if you are lucky enough to venture into the high rollers room.
We talk about the pros and cons of each casinos blackjack offerings in their own articles, but as a general rule, if you are playing on lower denomination tables, you are forced to play Blackjack Plus, with the main difference being if the dealer hits 22, it is a push, not a bust. This rule has infuriated many players with lower bankrolls and is one to keep an eye out for. The minimum amount you can find a table with standard rules at Crown is $25.
---
Legal online gambling in Australia 2023
While online casinos are banned in Australia, there are some forms of legal online gambling, with these including sports betting, online lottery and lotto betting and some forms of casual games, like Keno. Easily the no.1 online gambling pursuit in Australia is sports betting, with many licensed online bookmakers accepting bets on everything from horse racing through to the prominent football leagues, the AFL, A-League and NRL.
Online betting

The no.1 betting site in Australia is Sportsbet, with this bookmaker the biggest by money wagered. Other prominent sports betting brands in Australia, include Neds.com.au, Bet365.com.au and BetEasy.com.au, which was formerly Crownbet.

If you are new to online sports betting and want to learn more about the top betting sites for Australia, check out BettingSite.com.au. While if you are an International reader and want to learn more about sports betting and where to bet, read BettingPlanet.com.

Online lottery & lotto betting

Playing in Australia's lotto draws is easy to do online in, with OzLotteries and The Lott the two lotto sites making it possible, with these accessible from certain states. The Lotto draws in Australia are worth millions of dollars and create a big storm when there are big jackpots. PowerBall is also another prominent lotto draw that you can buy tickets online for.

Lotto betting is an initiative that allows you to bet on the results of lotto draws from around the world. For a while it looked like the traditional lotto draws in Australia, were under threat from brands like LottoLand and PlanetLottery that pushed aggressively into Australia, but the Government, lead by the states has clamped down on lotto betting, with South Australia banning it completely.
---
International online blackjack
Online blackjack is available all over the world, however the blackjack sites that you can play, vary depending on your location. This is because different countries have different laws surrounding online blackjack, and while Australians are unable to play for real money, many others can.
The best International online blackjack sites include some of the biggest names in world gambling, with Betway, William Hill and Unibet among these brands. Blackjack.com.au has compiled a list of guides to help our readers play online blackjack from their locations:
---
Blackjack.com.au: Why we love 21
Blackjack has the distinction of being a part of several unique historic moments, such as being the first major card game, brought along with French colonists to North America in the 17th century, to explode in popularity; igniting the staying power of the first taboo Nevada casinos in the 1930s, and driving the advancement of basic strategy, mathematical probability for card games in the early 1950s and subsequent computer software that spawned from the research – all from a game with a goal of 21.
Blackjack is our favourite casino card game for a number of reasons. Other than its rich history, it's a game that is easy to play and always engaging to learn more of. Strategies and tactics are key to success – not just pure luck – and it's always more exciting to win when your own skill is put to the test.
We're passionate about the game of 21 and that's why we're the one-stop authority and information nexus on all of your blackjack inquiries – we know what we're talking about and we love talking about it.