With its simple rules, wide-ranging formats, and a low house edge, online blackjack is one of the most popular card games in the world – and one of the easiest to make a profit from, with the right intel.
The advent of online blackjack has transformed the way the game is played, giving gamblers more options than ever. The igaming world is always expanding and diversifying, with more and more online casinos are offering real money games.
It is important to note that online casinos have been banned from offering their services in Australia and as a result this website cannot make recommendations about where to play. This page is intended for informational purposes only, unless you are based elsewhere.
Best online blackjack casinos
Casino
Bonus
Games
Pokies
Signup
The fight for online blackjack in Australia
It wasn't so long ago that Australians could sign up at hundreds of safe secure casinos licensed by the United Kingdom Gambling Commission and other reputable offshore jurisdictions, but now those who choose to flout the laws are forced into gambling at second-rate and often unlicensed casinos. Having said this there are some positive murmurs coming from our politicians about creating a national framework to regulate online gambling – with Senator David Lleyonhjelm the voice of reason during the IGA Amendment 2016 debates, the bill that was eventually enacted and enforcing a ban on offshore blackjack.
With online gambling banned in Australia from September 2017 onwards, the information in this article about how to play online blackjack only applies to overseas players.
Real money online blackjack
As the best-loved card game in the world, blackjack is offered at every single online casino out there. Whether you like stock-standard American games, or 'super bonus' versions like pontoon and Spanish 21, or jackpot games with side bets – there is something to suit everyone's tastes.
We only recommend online blackjack sites that are highly reputable and completely secure. That last point is more important than people may think, as we have to use our personal details and often credit card details to fund our account. There is plenty of other ways to deposit, including cryptocurrencies, web wallets and pre-paid eVouchers.
Best blackjack sites for US players
Due to the USA strict laws against online gambling, online casino choices are limited for American blackjack players. If you're looking for a reputable offshore blackjack site that accepts American players, we recommend you give BetOnline Casino a go – this site offers a range of blackjack game variants especially designed for the US market.
Reviews:
Why 21 games are better online
There will be a few folks reading this who are relatively experienced blackjack players. Some among you may be loyal regulars of the brick and mortar (b&m) casinos, and do not see the overall benefit in playing 21 via the web.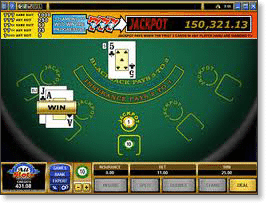 We understand. To many, there is simply no substitute for the atmosphere of the traditional blackjack table. Some players just cannot imagine the game without the buzz of the masses, the collective tension that hangs over every hand, and the banter between diverse characters who ultimately share a common goal. It is tactile, it is familiar, and it can be lots of fun – and the fact they bring drinks to your table is a bonus, too.
But that is a rose-tinted view of the land-based casino. Truthfully, for every Kodak moment you might experience, there will be at least as many nights to forget. This applies particularly to blackjack, where tables can be overcrowded, the self-styled gurus are often derisive of anyone with a different approach, and the ambience fluctuates between stone-dead and unpleasantly febrile.
There is none of that nonsense when you play 21 online. Most Internet casinos allow you to play one-on-one against the dealer, so there is no waiting around for the next shuffle (many b&m joints forbid mid-shoe entry). Also, there is no need to suffer the fools who would scald you for taking their cards and mucking up the 'sacred flow'. But best of all, you don't have to leave the house – so the atmosphere can be whatever you want it to be.
Contrary to popular belief, online casinos use sophisticated RNG (random number generator) software which is audited and tested by independent third party authorities to ensure all results are fair and unbiased. This helps safeguard against concerns that online casinos can cheat players, which simply isn't true – provided you stick with safe, regulated blackjack sites like the ones we recommend.
Online casinos also have all kinds of bonus offers, including sign-up bonuses and one-off promos. There are welcome bonuses for new players, and special mobile blackjack bonuses.
Online = Options
One of the most frustrating aspects of playing blackjack in real-world establishments is the lack of variety, where many b&m casinos typically only offer a single type of game on their low-bet tables. So unless you want to join the high rollers and fork out upwards of $50 a hand, there is practically no room for choice.
In online blackjack, however, international players have endless options. The infinite expanses of the Internet are home to every imaginable format – from the as-seen-on-TV stylings of the Vegas Strip, to more obscure variants from Asia and Europe, as well as good old classic blackjack. There is no need to settle for second best – go out and find the table that's right for you.
House Edge
Much of blackjack's popularity is due to its odds, which favour the player much more than most casino games. The house edge in a typical game of 21 is less than 1%, meaning the chances of success are as close to 50/50 as any gambler could hope for.
However, the wide array of rules that gives players so many options also allows casinos to turn the odds in their favour. Land based venues are notorious for using this flexibility to their advantage. For example: for many years, the vast majority of b&m casinos have offered 6:5 payouts for a natural blackjack, as opposed to the standard 3:2 odds traditionally used worldwide.
Again, this is where playing over the Internet turns the tables back towards the player. Web casinos offer great selections – so if you spot an online blackjack game that looks like it gives the house an Ace up the sleeve, just keep on scrolling along.
Beware Too Many Good Rules
As the saying goes: if it seems too good to be true, then it probably is. Casinos of all stripes will often carry blackjack games that appear incredibly favourable to the player, but which, in reality, are big earners for the house. The most glaring cases are found at land-based 21 tables, particularly in games that use a single deck.
Probably the best example of this deception occurs at Crown Casino. Since 2012, both the Melbourne and Perth venues have offered a format called Blackjack Plus. On the surface, it seems a terrific option for the player – you can double down on any two- or three-card hand, the dealer stands on all 17s, and all 21-point hands (and five-card Charlie) are paid out straight away. However, the dealer pushes all remaining hands with 22 – thus overriding all the good rules, and making it one of the unfairest version of the game you will find anywhere in the world.
Of course, online casinos have been known to use similar tricks as well. However, due to the sheer spread of options available when playing blackjack on the Web, these sucker games are nowhere near as prevalent. People figure it out, word spreads, and all of a sudden what was the casino's most lucrative table is getting no traffic. Internet gaming venues have learned that it is more important to attract gamblers than to fleece them, so the vast majority of 21 games offered are relatively player-friendly.
Sticking with reputable, regulated casino sites will ensure you avoid rogue operators hoping to bend the rules. Stick with the safe, trustworthy blackjack sites we've recommended, and avoid these blacklisted casinos at all costs.
Live dealer blackjack
As we touched on earlier, some players are right at home in the aesthetics and surrounds of land-based casinos. We will not deny that there is a certain charm that goes along with the clean felt of a table top, the crispness of a fresh deck of cards, and a well-dressed dealer. But what if you could have all that without leaving the comfort of your home?
Live dealer blackjack is readily at 100s of different online casinos. You can play on your computer, smartphone, smart TVs and tablets and the technology is improving almost monthly. The rollout of the NBN has also made video streaming gambling that much more reliable, but good ADSL 2 connections are easily enough to handle the interface.
One of the best live dealer platforms available for live dealer play is from Evolution Gaming. You will find tables for as little as $5 per hand, while there are VIP tables with minimum bets of $250 and maximum of 5k per hand. Some casinos will even open up your own personal cyber table and increase the limits for you.
The beauty of live dealer on the web is that you can play any time. Not all casinos will have their tables open 24/7 but we will do our best to keep our reviews updated and with relevant information. Any site we recommend will have been checked out by us and will strong live dealer sections.
Popular live dealer software providers
Evolution Gaming: One of the most well known software providers for live dealer. Has a great product on both desktop and mobile. Play at Guts Casino.
Microgaming: The most well-known software provider on the web. Have extensive live dealer titles available 24 hours. Is the home of the always-popular Playboy Bunny dealers. Play at Royal Vegas or All Slots Casino.
Playtech: Rivals Microgaming for longevity and produces an equally as slick product. Has plenty of tables operational 24 hours a day, plus many high limit tables. You can play at Casino.com.

Can I play high limit blackjack online?
Of course you can, provided you are not located in Australia. Most international online casinos will have a table limit of around $5000 on their highest table. But casinos like Guts.com and Casino.com have been known to have higher limit tables upon request.
What is the minimum table limit for online blackjack
Casinos won't let you practice play live dealer games because of the costs associated with running it. It's obviously more expensive than an RNG-based game. Table limits will generally start at $5, although we have stumbled across cheaper tables in the past.
Is live dealer safe?
Yes it is, if you play at the right casino. People will try and scare off online punters by saying it's 'offshore' but this simply means it could be licensed to operate elsewhere under that jurisdiction. Bodies like eCOGRA also keep players safe and give them an avenue to make complains.
How do I get started?
Simply join one of the casinos in the above table. You can use our links to read individual reviews of each casino, or sign up for an account and take our word they provide a great live service.
Popular online blackjack variants
If you have only played the game a couple of times, or only seen it played on television or in movies, chances are the format was either American blackjack or European blackjack. However, there are dozens and dozens of different blackjack variants out there, some of which feature unique rules and special payouts for those players who like something a little bit exotic.
Internet casinos are without doubt the most convenient avenue for finding and trying all these variations – just flick through the menus and play away. Here are a few styles that have garnered a cult following in online gaming over the past decade.
Double Exposure
In standard blackjack, players can only see one of the dealer's cards while playing their own hand. In Double Exposure, however, both dealer cards are dealt face-up for all to see. This single rule gives a huge advantage to the players, and so is generally offset with a few house-friendly laws.
Good rules
• Both dealer cards shown from beginning
• 1:1 payout when dealer and player both have blackjack
• Can double down after splitting
• Can re-split Aces
• Can re-split up to four hands
Bad rules
• Dealer wins all ties except blackjack
• Blackjack pays 1:1
• Can only double down on nine, 10 or 11.
• Dealer hits soft 17
• No natural blackjacks after splitting Aces
• No insurance (impossible with both dealer cards up)
Blackjack Switch
This is the game from whence the infamous Blackjack Plus tables spawned, as the dealer pushes with 22. Players run two hands at the same time, with the option to swap the second cards of each hand. For example: if we are dealt A 5 and 6 10, we can switch the Five and the 10 to make A 10 (blackjack) and 5 6. This gives players a huge edge, hence the 22 rule and 1:1 blackjack payouts.
Good rules
• Dealer peeks for blackjack
• Can double down after splitting
• Two hands simultaneously
• Can switch second card of each hand
Bad rules
• Dealer pushes all non-blackjack hands with 22
• Blackjack pays 1:1
• Can only double down on nine, 10 or 11.
• No insurance
• No surrender
• Dealer hits soft 17
• Cannot re-split
• Can only take one more card after splitting Aces
Spanish 21
Contrary to the name, this interesting take on blackjack actually originated in the United States. It is so called because it uses standard Spanish decks, which contain only 48 cards (there are no number 10 cards – the ranking skips from Nine to Jack). Despite the reduced chances of drawing blackjack, this game actually offers players a wide array of benefits (such as a massive 50:1 'super bonus' payout) with very few downsides.
Good rules
• Dealer peeks for blackjack
• Player blackjack always beats dealer blackjack
• All other player 21 hands beat dealer 21
• Can double down on any two cards
• Can re-split Aces
• Can double down and hit split Aces
• Can re-double once (sometimes replaced with hit after doubling down)
• Can re-split up to four hands
• Off-suit 6 7 8 or 7 7 7 pays 3:2
• Suited 6 7 8 or 7 7 7 pays 2:1
• 6 7 8 or 7 7 7 of spades pays 3:1
• Suited 7 7 7 versus dealer up-card 7 pays 50:1
• Five-card 21 pays 3:2
• Six-card 21 pays 2:1
• Seven-card 21 pays 3:1
Bad rules
• Only 48 cards per deck
• Dealer hits soft 17
Pontoon
Pontoon shares much in common with Spanish 21, including the use of 48-card decks and parts of the payout structure. And like its cousin from the Northern Hemisphere, this blackjack variety offers plenty of incentives compared to standard blackjack games.
There are many variations on Pontoon from state to state, particularly regarding hole-card rules, doubling down and splitting. Below are the rules for a standard Sydney-style game.
Good rules
• Player 21 wins immediately
• 'Double down rescue' – can surrender after doubling
• Can double down after splitting
• No dealer hole card*
• Off-suit 6 7 8 or 7 7 7 pays 3:2
• Suited 6 7 8 or 7 7 7 pays 2:1
• 6 7 8 or 7 7 7 of spades pays 3:1
• Suited 7 7 7 versus dealer up-card 7 pays $1000 'super bonus' for bets under $25, and $5000 for bets over $25
• For super bonus, all players receive $50 'envy' payout
Bad rules
• Dealer hits soft 17
• Can only double down on nine, 10 or 11
• No re-splits
• Bonus payouts do not apply after doubling down
* Often a disadvantage in standard blackjack, this actually benefits players in pontoon. This is because 21-point hands are paid out instantly – so it doesn't matter if the dealer has blackjack, because anyone with 21 has already won.
Payment options at online casinos
Most countries can process standard credit card payments to offshore gambling sites. This means to deposit at an online casino you simply need a credit or debit card. Yo visit the banking section of the casino you have chosen up at choose this method to deposit. There are plenty of other deposit options available.
What are the deposit options available?
Credit and debit cards are the most popular but there are many other options available, including web wallets, pre-paid cards and bank transfers, which are great for high rollers.
Can my card details be stolen?
Online casinos have the highest security measures available, with a minimum of 128-bit SSL encryption in full service. This is the same secure line a bank uses to make online transactions. Hacks do happen to the biggest websites out there, but it has been a long while since a reputable casino lost any play information through a security breach.
What about withdrawals
Withdrawals generally take between 24-48 hours to hit your bank. They are usually processed via bank transfer to the card you deposited on. Otherwise you can use methods like web wallets and direct bank transfers. Cheques can also be requested. Be aware that you will have to prove your identity. Most casinos will have a maximum limit that you can withdraw in one hit, but this is generally pretty high $5000 +. High rollers will be able to reach a compromise on this with the casino.
How do I prove my identity
Some casinos will accept online instant verifications. Others will get you to send a scanned copy of your license or passport.
How and where to play blackjack online
So now you know what online blackjack is all about, the question remains: how do I play on the Internet, and where? There are hundreds and thousands of options out there, with more and more online casinos popping up. It's important to note that just because blackjack.com.au chooses not to promote casinos to Australian because it is a violation of law, there is still plenty of options available.
If you are looking to play online blackjack from any other country in the world, you will see table at the top of this article, which will guide you through the process of signing up and depositing.
---
Online blackjack software developers
Online blackjack is clearly one of the most popular casino games in 2023 and it's little wonder, given how easy it is to learn and the prevalence of some great variations. The best online blackjack software developers is a loaded question, with many platforms only available in some place. For instance, Microgaming has long been one of the most popular blackjack platforms, but it is not available in their home country — South Africa.
In Australia, real money online blackjack is banned, meaning we choose not advertise gambling sites to our readers from here. This means Australians will only be able to play the following online blackjack developers games in free play or practice mode. Some of the top online blackjack platforms we recommend include: