Live dealer blackjack is available at many of the top online casinos in 2023, with this format only available for real money. Live blackjack games operates much the same as at a retail casino, with a dealer on your screen and the ability to place your bets on a digital version of the table in-between hands. The best live dealer blackjack sites will largely depend on your location and whether real money gambling is legal. The best live dealer blackjack sites are:

Best live dealer blackjack sites
Online blackjack has a lot of advantages over traditional land-based game-play; convenience, flexibility, vast arrays of games, bonuses, cash prize tournaments, a range of secure banking methods, instant customer support, privacy, and lower house edges. But despite these points, many of us also enjoy the personal touch that comes with playing at a b&m casino, and the fact real human dealers remain in control of the game. With the advent of live dealer gambling, the Internet blackjack industry is now fast surpassing its offline counterpart.
From September 11, 2017, online casinos are legally unable to offer their services to Australian players, hence we cannot provide you information about the services available. This article is for International and informational purposes only
If you prefer human dealers to those backed by random number generators, you'll be pleased to know live dealer game-play, which is streamed to our computers via a high quality video feeds, is widely available across some of the best casinos on the Internet.
Web blackjack is no longer just a virtual representation of your favourite game run by a computer program: it is an authentic and convenient casino experience with the added bonus of widespread accessibility, and with little, if any, sacrifice made from the standard game. And live dealer game-play has added another dimension to our gaming, stamping its authority firmly on the blackjack scene.
---
Top live dealer blackjack online 2023
There is live dealer blackjack sites available to most places in the world, despite Australians being unable to legally play real money casino games. Some of our favourite online casinos that have blackjack games for our overseas readers includes:
---
How Live Dealer Blackjack Works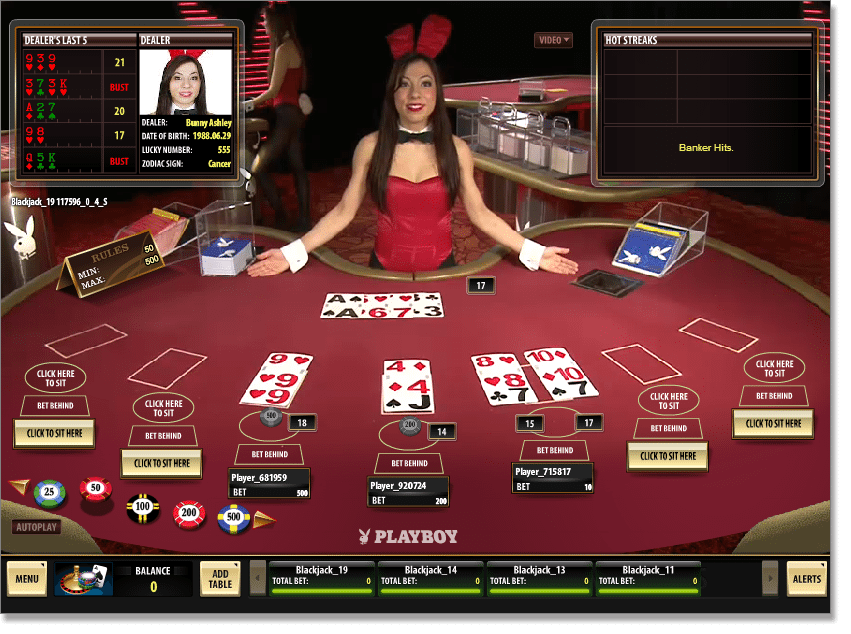 The online casinos which offer the live dealer feature will employ a certain number of gaming staff, just as a traditional land-based casino would, (but on a much smaller scale). Those staff members will include several croupiers managing various games, cameramen, IT coordinators to assist in any technical issues, and a manager who oversees all the action, and is called upon if any disagreements arise between players and dealers. The entire set up is usually located in a studio which replicates the casino gaming floor, or sometimes even an actual casino.
The games, such as blackjack, run just as they would in a regular casino, and players view a live streaming video link on their computers of all the action. Players bet as they would in a virtual blackjack game, but within the live dealer game-play, are given a certain period of time before a decision needs to be made. Players can also communicate with the croupier via a text chat function.
---
Real money live blackjack
Live dealer blackjack is available to us whether we are managing our casino account through downloaded software, or instantly via our browser, and navigating to play the game is simple. If you haven't already set up an account, do so, it will only take a few minutes with basic information required. Just remember that you may have to verify the account to withdraw, which means identifying yourself, so be sure to use your correct name.
Once you have funded your account, head to the list of table games and you will find the appropriate live dealer blackjack games. Decide on which table to play on, which should be hassle free, as these casinos automatically generate new rooms to fill demand.
Note: Live dealer blackjack games are available for real money only: because of the costs involved in setting up and maintaining live dealer studios, it simply is not reasonable to offer any practice game-play. Having said that, most sites will allow you to simply watch the live dealer feed without betting. If you don't wish to play for real money yet, and intend on improving your skills first, traditional online blackjack is the best way to go, allowing you to practice until your heart is content.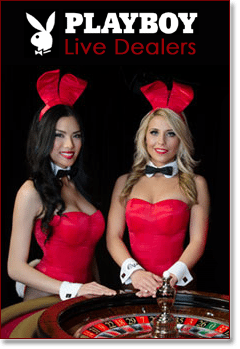 For our international readers, we highly recommend All Slots Live Dealer Blackjack, as you can choose to play with either traditional dealers, or opt to play with the sexy Playboy Bunny croupiers. If you are seeking attractive female dealers to play with, and while I can only speak for myself, I'd imagine a significant of you wouldn't mind their company, then the Playboy girls down at All Slots should satisfy your desires.
In game, the high-quality video feed window will be on display, and will proceed to stream the live dealer and table directly to your screen, where you will be able to hear the croupier speak (so long as your volume is turned up) and watch her begin dealing cards once everyone is in play.
In full view in the video feed is the real table with the corresponding betting areas (where chips are placed and cards are dealt), along with the dealer. The live dealer will deal to all playing hands, and ask you, on your turn, what you would like to do. We simply use the standard online blackjack interface, at the bottom of our screen (where it says to hit, stand, double, and so on), to make our move.
Best live dealer blackjack sites for US players
Due to the USA strict laws against online gambling, options are limited for USA blackjack players. If you're looking for a reputable offshore blackjack site that accepts American players and offers a range of live dealer blackjack games, we recommend you give BetOnline Casino a go – this site offers a range of blackjack game variants including live dealer titles, especially designed for the US market.

Features of Live Dealer Blackjack sites
There are plenty of advantageous features which set live dealer blackjack apart from RNG-based blackjack, and make it an exciting and worthwhile experience over traditional online 21 and land-based blackjack.
Auto-Generated Tables: You will never have to worry about not having a spot on a live dealer blackjack table, as new tables automatically open should existing ones fill up.
Bet Behind: Many live dealer games implement a bet behind feature, which allows you to bet on another player's hand, like in a b&m casino, and track how many consecutive hands they have won.
Dealer/Player Interaction: All the best live dealer games we recommend allow you to directly talk to the dealer and sometimes even the other players present in the room, rather than just watch the dealer hand out cards and click on your next option. This adds a level of authenticity to the game, and makes it feel all the more real.
Dealer Choice: Unlike traditional blackjack, you can choose what type of dealer you would like to play with, and on offer are some highly attractive female croupiers. All Slots' Playboy Bunny-themed dealers allows us to enjoy winning games of blackjack with smoking hot dealers. If you like the dealer you've selected, you can opt to play with your favourite whenever you want.
More Than One Game at a Time: If you enjoy multi-tasking, you can play more than one live dealer blackjack game at the same time – the live video feeds will simply separate into separate windows and you can switch at will between each one.
Live Dealer blackjack is a great option for overseas web gamblers looking for more interactivity in their online blackjack games while retaining the accessibility, convenience of play and in-depth statistical tracking feeds computer-simulated blackjack offers. Along with the ability to play whenever you want on your desktop, you don't have to put up with obnoxious players, you have increased privacy, and can pace and personalise the games according to your own preferences.
Part of the computer interface standardised with virtual games of blackjack against the computer, is also removed in live dealer games, because the live video feed displays the actual equipment (table and cards), so the need for a virtual table and cards is no longer required. To be able to talk with your chosen dealer – and sometimes fellow players – also makes for an authentic feel and creates a better online atmosphere. Perhaps best of all, you can play with extremely attractive female dealers at your discretion. If that is not a huge advantage, I don't know what is?
While visiting a land-based casino on a big night out is always fun, the online live dealer option, constantly being improved, with the development of mobile live dealer blackjack just around the corner, provides us with an excellent alternative that should be seriously considered by any blackjack enthusiast.
To learn more about this exciting new gameplay format, read our detailed live dealer guides: