Vegas Strip Blackjack is one of the most essential variants in the American blackjack series, along with Vegas Downtown Blackjack and Atlantic City Blackjack. Given its popularity in bricks and mortar casinos, it's now a common game at leading online and mobile casinos, which means players don't have to venture to Sin City to enjoy this fantastic game.
Differences between Classic Blackjack and Vegas Strip
At its core, Vegas Strip follows the same basic rules as classic blackjack and as with all blackjack variants, the aim is to acquire a hand with a higher value than the dealer without busting a total of 21. The style of the table, dealing process and blackjack terminology is the same for both variants. The differences between the two lie in the smaller details, like the amount of decks used and small spins on certain rules and player moves. If you are familiar with the rules of classic blackjack you will have no trouble picking up the rules of Vegas Strip.
Fixed Rules of Vegas Strip Blackjack
Vegas Strip is a hole card game and follows all standard hole card rules. A hole card game is when the dealer is dealt two cards, one face up and one face down. The down facing card is referred to as the "hole card". Hole card and additional fixed rules of Vegas Strip Blackjack include:
• Four decks of standard playing cards are used
• A blackjack payout is typically fixed at 3 to 1 (some tables may offer a payout of 6 to 5 which should be avoided)
• The dealer stands on soft 17 (a hand valued at 17 that includes an Ace worth 11 points)
• The dealer peeks for a blackjack when face-up cards are 10's and Ace
• Players can double down on any first two cards
• Surrender is not allowed
• Players can split cards three times, for a total of four hands in play
• Double down after splitting is allowed
• Aces can only be split once
• When splitting Aces, players can only take one card
• Unlike cards valued at 10 may be split, for example a Queen and a 10 or a Jack and a Queen
• Hitting 21 when splitting Aces doesn't constitute as a blackjack
Vegas Strip Blackjack House Edge
Vegas Strip is considered to have one of the lowest house edges of all blackjack games, second only to classic blackjack. When following the standard rules as detailed above the house edge of Vegas Strip is 0.35%. To take advantage of better odds of winning, blackjack strategists advise players of Vegas Strip to avoid games that offer a payout of 6:5 and to avoid taking insurance.
Blackjack in general has a lower house edge than other casino games, so with the low edge of this variant, Vegas Strip is a great choice for hopeful winners.
Advantages of Playing Vegas Strip Online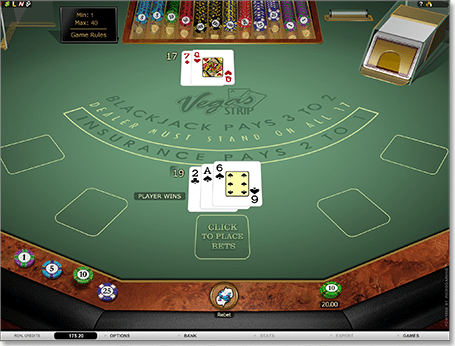 Choosing to play Vegas Strip Blackjack online or at a mobile gambling venue as opposed to in a land based casino offers many benefits. First and foremost there is the convenience of being able to play whenever you like, from wherever you like in the comfort of your pyjamas if you so desire.
Secondly, although this is a popular blackjack variant found in real life casinos around North America, it is not commonly found within Australian casinos. Melbourne's Crown Casino does offer Vegas Strip Blackjack, but only to high rollers with bankrolls high enough to gain them entry to the exclusive Mahogany Room. Playing Vegas Strip online means Aussie players can still enjoy this leading blackjack variant without having to fork out for airfares or hotels to the USA.
Thirdly, online casinos offer more leniency when it comes to minimum and maximum bets than you'll find in a b&m casino. Blackjack tables at Australian casinos like Crown, SkyCity, Jupiters and Star City can impose minimum bets that quickly restrict the bankrolls of recreational players, while online blackjack tables offer lower minimum wagers making them more affordable.
Where Aussies Can Play Vegas Strip Blackjack
Vegas Strip Blackjack is a popular variant found at most of our recommended online casinos. You can try this game and a range of other blackjack titles in demo mode for free or register an account to play for real money bets in AUD.
Our favourite online venues for Vegas Strip include Royal Vegas Casino, All Slots Casino and Casino-Mate. These highly reputable sites offer a range of secure deposit and withdrawal options for Australian players and a range of other blackjack variants including Atlantic City Blackjack, Multiplayer Blackjack, Vegas Downtown Blackjack, Spanish 21, Double Exposure Blackjack and Pontoon.
Start playing Vegas Strip Blackjack at All Slots Casino and secure up to $500 in bonus bets