European blackjack is the most common form of the game in the United Kingdom and continental Europe, and is closely related to the popular versions played in Australia and throughout Asia. But what distinguishes European Blackjack from other formats, such as traditional American blackjack? Let's take a look at the gameplay rules for European 21 and how they affect the house edge and optimal strategy, as well as what options we have when playing on the Web. Our guide will run you through the European Blackjack rules, how to play European Blackjack online, latest promotions and much more. The top European blackjack sites for November, 2023 are:

Best European blackjack sites
Play Real Money European Blackjack Online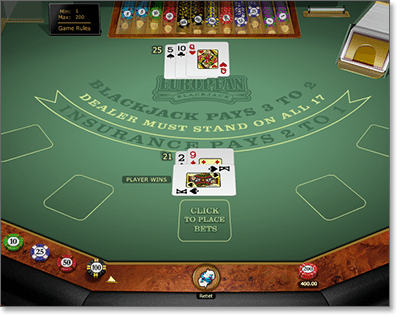 For authentic European 21 with no fuss, maximum convenience, and perks aplenty, you can't beat playing on the Net at one of our recommended Internet blackjack casinos. For starters, the odds and house edge are usually much more favourable than you will find at any land-based casino. The selection of casino games is also far broader, as we can hop from Euro-style tables straight into Atlantic City blackjack, Vegas Strip rules, and even live dealer games hosted by some of the most fetching croupiers on the Web (try the Playboy Live blackjack games).
For our international readers, we rate Royal Vegas Casino as the top destination for online 21. It caters for all tastes with more than 25 Microgaming BJ releases – including the flagship European Blackjack Gold Series, with its unmatchable graphics and gameplay quality. There's also multiple versions of roulette, baccarat, and plenty more traditional table games (live dealer versions included), as well as 300+ real money slots and progressives if you fancy a flutter on the slots.
But above all, Royal Vegas – like all our top blackjack websites – is 100% dedicated to providing a safe, secure environment for online gambling. All deposits and withdrawals are safeguarded by impenetrable 128-bit SSL (Secure Socket Layer) encryptions, and there are loads of trusted cash transaction methods available in a range of currencies – including Visa, MasterCard, Skrill, Neteller, Ukash, Paysafecard, and several direct banking options.
Simply put, Web-based blackjack is at least as safe as playing at a b&m casino – and better value, with heaps of bonuses and promos for overseas players. Check out the sites below to get started with one of our recommended real money 21 sites – and always make sure to check the online gambling laws applicable in your country.
Best casinos for real money European blackjack:
European No Hole Card (ENHC)

This is the most obvious discrepancy between European 21 and most other styles. In US blackjack games, the dealer will almost always take two cards on the initial deal: one exposed card (facing up), and one hole card (facing down). In standard Euro blackjack, however, the croupier only takes a single face-up card at the start of the hand, so there is no face-down card.

How does this affect the game? The key difference is that without a hole card, it is not possible for the dealer to peek for blackjack immediately after the initial deal. This means all players must complete their respective hands before it is revealed whether or not the dealer has drawn a blackjack.

This might seem like a minor detail at first glance, but in fact it has a significant effect on the house edge. This is because under the European No Hole Card rule (ENHC), players lose all bets against a dealer blackjack – including any additional money wagered on split hands and doubles. Compared to games where the dealer checks for natural 21, ENHC increases the casino's advantage by at least 0.11 per cent.

Around the world, certain special rules are sometimes included to compensate for the dealer not taking a hole card. For example: land-based Australian blackjack casinos have often used the Busted Bets Plus One rule (BB+1), where the house claims only wagers on busted hands and one additional unit in total from any unbusted splits or doubles. In Europe and on the Net, however, the ENHC condition is still most common.

See also: American v European Blackjack

Euro 21 Rules & House Edge

Besides losing all bets against a dealer natural, most rules in European BJ should feel very familiar to Australian gamblers. These are the basic conditions for the online European blackjack game that's offered at Royal Vegas Casino:

Two decks
Blackjack pays 3 to 2
Insurance pays 2 to 1
Players lose all bets against dealer blackjack (ENHC)
Dealer stands on soft 17
Double down on hard 9, 10, and 11 only
Split up to two hands only
Cannot double down after splits
Can hit split Aces
Split Ace + 10 pays 1 to 1

There are a few very player-friendly rules in this bunch. Using only two decks brings the house edge down 0.19 per cent compared to a standard eight-deck game, while the ability to hit split Aces swings things in our favour by the same margin again. Best of all is that the dealer must stand on all 17s, which dents the casino's advantage by another 0.22 per cent.

The rest, however, are rather damaging. We have already discussed the ENHC rule and its effect on our chances of success (-0.11%), but it is the tight restrictions on splits and doubles that really hurt us here. We can only split to two hands instead of four (-0.10%), we cannot double down after splitting (-0.14%), and we can only double on 9, 10, or 11 (-0.09%).

When using optimal blackjack strategy, this leaves us with an overall house edge of about 0.40 per cent – which means for every $100 we wager, our expected return would be about $99.60 if we play our cards right. This is an improvement on previous editions of Microgaming European Blackjack, which favoured the dealer by as much 0.62 per cent, and it beats the vast majority of 21 games at brick and mortar casinos in Australia.

Basic Strategy Guide for European Blackjack

Below is a simple strategy guide for European blackjack. For every hand you might draw, this list guides you through what to do depending on what card the dealer shows. This includes distinctions between hard hands, soft hands, and whether or not to split on a pair. We have tailored this European Blackjack cheat sheet to correspond with the rules listed in the previous section.

Player hard hands:

5, 6, 7, 8 – Always hit, regardless of dealer's card.
9 – If the dealer's card is between 2 and 6, double if possible (if not, then hit). Everything else, always hit.
10, 11 – If dealer has 2 through 9, double/hit. Everything else, always hit.
12 – If dealer has 4, 5, or 6, always stand. Everything else, always hit.
13, 14, 15, 16 – If dealer has 2 through 6, always stand. Everything else, always hit.
17, 18, 19, 20, 21 – Always stand, regardless of dealer's card.

Player soft hands:

13, 14, 15, 16, 17 – Always hit, regardless of dealer's card.
18 – If dealer has 2 through 8, always stand. Everything else, always hit.
19, 20, 21 – Always stand, regardless of dealer's card.

Player pairs:

2 + 2 – Split if dealer has 4, 5, 6, or 7. Everything else, hit.
3 + 3 – Same as above.
4 + 4 – Always hit.
5 + 5 – If dealer has 10 or Ace, always hit. Everything else, double if possible (if not, then hit).
6 + 6 – Split if dealer has 2 through 6. Everything else, hit.
7 + 7 – As above, except split against dealer's 7.
8 + 8 – If dealer has 10 or Ace, always hit. Everything else, split.
9 + 9 – If dealer has 6, 10, or Ace, always stand. Everything else, split.
10 + 10 – Always stand, regardless of dealer's card.
A + A – If dealer has an Ace, hit. Everything else, always split.

Read enough? Join any of the top European blackjack sites above to gain instant access to over 30 different live casino games, RNG titles, great blackjack promotions and more