With more players switching to online gambling, we often hear people asking whether they can play live dealer games for free, but unfortunately live games are the only type of online blackjack requiring a real money bet to be placed in order to play. We explain why this is, how you can sample games without betting and the live dealer casinos offering the most affordable bets.
Live dealer blackjack sites
Casino
Bonus
Games
Pokies
Signup
Why live dealer games require real money bets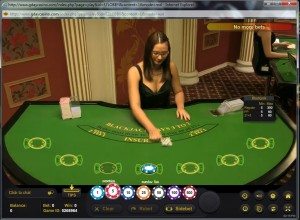 Unlike RNG (random number generated) casino games like the roulette or blackjack, there are high costs involved with running live dealer games. Live dealer games are hosted from high-end studios which have been custom built to perfectly replicate sophisticated casino venues, and some are even hosted in studios located within real land based casinos. Games are hosted by professional croupiers who have undergone extensive training, and they work hard just like the croupiers you see when you play in a real life casino.
On top of the expenses associated with employing professional dealers and maintaining classy casino studios, state-of-the-art technology is required to power these interactive games. We're talking live streaming using high-definition video cameras, with a dedicated team of back-office support staff required to be on standby to ensure everything runs smoothly.
Put all those elements together and you're looking at some pretty high operational costs, which unfortunately means online vendors would be losing money if they allowed live dealer games to be played for free. Despite not being able to access live dealer games in demo mode, they're generally still more affordable than the high cost table games you'll find in a land based casino.
How to sample live dealer games without betting
While you can't play live dealer games for free, simply having a real money account with a casino which offers live dealer games will give you the chance to have a look at the way live games operate.
As long as you have some funds loaded to your account, you can still enter a live dealer game and watch all the action unfold without having to place a bet of your own. You won't be able to play or win any money unless you decide to lay down a real wager, but at least you can get an idea of how the games look and play out. You'll be able to watch and listen to the dealer call for bets, see other players as they place bets on the betting table and get an idea of the different settings and customised views you can select when playing for real money.
Leading online casinos extend welcome bonuses for new players, so even making a small deposit will be matched by some kind of added boost to give you the chance to sample live dealer blackjack games with minimal out of pocket expenses. With convenient, safe deposit options like Visa, MasterCard, Neteller and Skrill, and payments accepted using a range of currencies making a deposit is easy.
Low stake live dealer blackjack games
We urge players not to be put off of live dealer gaming just because games can't be played for free. The minimum bets required for live dealer blackjack are still very reasonable, with wagering requirements suited to those with smaller bankrolls as well as high rollers.
The minimum bets can change depending which casino you're playing at, and not all live blackjack tables are open around the clock, but as a general guide here are some of the lowest stake live dealer blackjack games you'll find at safe and reputable casinos.
NetEnt live dealer blackjack
NetEnt's Common Draw Blackjack is the most affordable live 21 game available, with guaranteed seats always available.
Minimum bet = $1
Maximum bet = $200
Evolution Gaming live dealer blackjack
Minimum bet = $5 with a bet behind option of $1
Maximum bet = $250 with a bet behind option of $100
Ezugi live dealer blackjack
Minimum bet = $10
Maximum bet = $200
Microgaming live dealer blackjack
Microgaming's live 21 games are higher on the betting scale, but with varied games of high quality these are well worth your time if you can afford the minimum wagers.
Minimum bet = $25 with a bet behind option of $10 max
Maximum bet = $300 with a bet behind option of $200 max
There's also a Playboy live dealer option from Microgaming, but given the extra sex appeal and licensing costs minimum bets are higher, starting at $50 for a seated bet or $25 for a bet behind option.
Live dealer blackjack is a lot of fun and we highly recommend giving it a go, so with games like NetEnt's Common Draw Blackjack starting from $1 it's well worth making a small deposit to see what all the fuss is about.