There are literally hundreds of live casinos featuring Microgaming blackjack and other real money games by this software company. The top live Microgaming casinos will only be available to punters if they are based in places with regulated gambling, with this iGaming developer abiding by all regional laws around the world. The best live Microgaming blackjack sites will accept both mobile and desktop traffic, have some great promotions and bonus offers, have multiple deposit options and a strong reputation among players. Below we will run you through what is available at live casinos with Microgaming real money games, including the types of blackjack, how to play live blackjack by Microgaming, table limits and much more. The best live blackjack sites featuring Microgaming titles include:

Best Microgaming casinos with live blackjack
Best live casinos with Microgaming blackjack
There are many different online casinos that featuring live blackjack by Microgaming, although. not everyone can join every Microgaming casino. This iGaming giant only allows their real money casino games to be played in places with legal gambling, or in places that have not banned it outright.
The top live blackjack casinos powered by Microgaming will have upwards of 30 different blackjack games, although not all of these will be from this brand, with most gambling sites featuring multiple software providers in 2022.
Live Microgaming blackjack games can be played on both desktop computer and mobile at modern casinos and many even have blackjack apps that you can download to your smartphone. These Microgaming blackjack apps are generally available for Android (Top Android casino sites) and iOS (Best iOS casino sites) smartphones and tablets.
The best live Microgaming blackjack sites are:
---
Types of Microgaming live dealer blackjack
There are two types of live dealer blackjack in the Microgaming range; one is a classic version of 21 akin to the kind you'd find in a land based casino, the other is classic blackjack but with a bit of extra flair as the croupiers are all dressed as Playboy bunnies (yes, you read that right!). So whether you want to keep it super classy or add a little sauciness, Microgaming live dealer 21 games have you covered.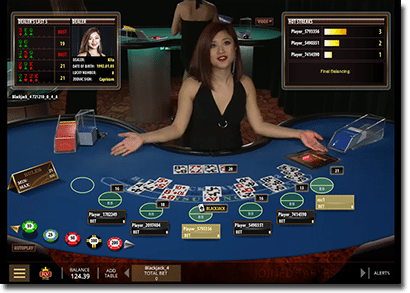 Classic: if you've ever played 21 in an online or real life casino before, you'll be familiar with the European blackjack rules used in Microgaming's classic blackjack game. In the live game the table is laid out very similar to any RNG (random number generated) online blackjack game in that there are multiple betting spots and players select the size of the chips they wish to wager using the play options at the bottom of the screen. Using European blackjack rules, the dealer in Microgaming's classic live dealer blackjack does not deal themselves a hole card.
Playboy Bunny: blackjack sure got sexier with Microgaming's addition of Playboy live dealer games. The blackjack rules used in the Playboy games is similar to the classic version mentioned above, the major difference being that games are hosted by attractive, glamorous Playboy bunnies and that due to the extra eye candy, games require a higher buy-in.
---
How to play Microgaming live dealer blackjack
To play Microgaming live dealer blackjack a real money account is required as these games can't be trialed for free. Luckily our recommended blackjack sites for international players all offer some great welcome bonuses to boost your cash flow upon making your first deposit so you'll have more money to play with from the get-go. The best venues to play Microgaming live 21 include:
To play, sign up for an account and make a deposit, then head to the live dealer casino lobby where you can select blackjack from the game options (also on offer from Microgaming is baccarat, roulette and Casino Hold'em). The live game lobby will show you all the open tables you can choose from along with the amount of remaining seats available at each and a list of the dealers last five hands. Select your desired table to be taken to the live dealer game.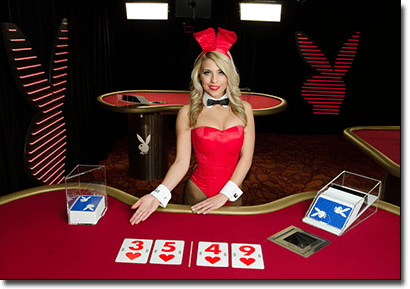 A new game takes place every couple of minutes, so you'll never have to wait long for your turn to join in. Play with the sound on so you can hear the dealer calling for bets and announcing winners. Once you see the call to 'please start betting' it's time to place your wager by moving the different valued chips to the betting position on the table in front of you. You'll have approximately 20 seconds to place your buy-in before the dealer announces betting is closed, then watch as the game unfolds and follow the prompts for any further betting.
You can customize the game at any time by bringing up the menu toolbar found in the bottom left hand corner of the screen. From here you can adjust the audio, the table view, the video quality, set up auto-play, view gaming stats and several other customizable options.
---
Social aspect of Microgaming live blackjack
More often than not, there will be other players in the room, but if you're lucky you just may have the table to yourself – it completely depends whether anyone else across the world is logged into the same game at the same time as you.
Rest assured that other players can't see you, so you don't have to interact with them in any way if you don't want to. Unlike some other live dealer providers, Microgaming live 21 doesn't provide a chat option, so players can't talk amongst themselves between deals.
If you've entered a live dealer game and the table is full, select the 'bet behind' option which means you'll still be in on the action but just betting behind one of the already seated players.
---
Streaming quality options
If you're using a less than desirable Internet connection because of your location or due to using an older dial-up service, don't be put off of by thinking that you can't enjoy live dealer blackjack gaming because your connection is too slow. Microgaming's live dealer suite gives you the option to tailor the quality of the stream to the quality of your Net connection so players with a slower Internet connection can still enjoy live dealer games.
There will be some loss of fidelity to the visual quality of the games, so don't expect to view them in the crisp high-def they were intended, but the changes aren't too dramatic and you can still enjoy Microgaming's live dealer blackjack games with a slower connection.
To change your streaming options, open one of Microgaming's live 21 games and click on the navigation bar on the left hand side of the screen, head to settings and adjust the quality of the stream.
Try Microgaming's live dealer classic blackjack and Playboy blackjack at trusted sites like Royal Vegas Casino and All Slots.