The prepaid service ecoCard was made available by the e-Wallet service, ecoPayz over five years ago. It is a great option for players who want all the features of a web wallet to use at secure online casinos, but also want to withdraw their winnings from a virtual account instantly.
Best online casinos with EcoCard deposit options
Casino
Bonus
Games
Pokies
Signup
However, some players may find the method a bit redundant due to the lack of currency options available. There are benefits to the prepaid card though, including its compatibility everywhere MasterCard is accepted and secure nature.
ecoCard background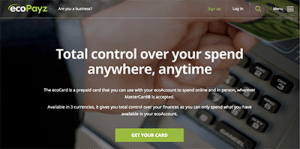 ecoCard was developed as a service under the longest operating e-Wallet, ecoPayz – the web wallet was launched in 2000 under the name ecoCard. It is a prepaid MasterCard which can be used at secure online casinos, and you can even use it to withdraw funds from participating ATMs.
Nine years after its emergence the e-Wallet was approved to issue MasterCard cards, which took the name ecoCard four years later. The name ecoPayz was coined for their e-Wallet to distinguish between their available services. Other available options from ecoPayz includes ecoAccount – you need this to get an ecoCard – and ecoVirtualcard which is the virtual option of the ecoCard.
While a mobile app was released in 2009, it took four years for it to be perfected so users could gain full access to their accounts via smartphone and tablets. But it wasn't until 2014 the phone application was compatible with Apple and Android devices.
How to get ecoCard
You need to apply for an ecoCard before you can use it at a web casino. The only way you can get one is by opening an ecoAccount. Simply head to the website and register your details in order to create one.
Once you are all signed up, you can link a card to your ecoAccount which will allow you to use the web wallet service, ecoPayz, or head straight to the ecoCard application. This won't take long – simply click on the ecoCard tab, apply with a registered address, and your card will be sent to you within three weeks. You can then activate it using the last four digits found on the card and the digits of your date of birth once received.
If you can't wait that long you can also apply for an ecoVirtualcard which is the same as the ecoCard but only available online – you are given a virtual card so you can't use it to withdraw funds at an ATM but you can get depositing immediately, anywhere MasterCard is accepted.
There are also three card options available, with three currencies to choose from including Euros, Pounds, and the US Dollar. This may be a drawback for players outside of these countries who want to play in their local currency, but there are plenty of other safe deposit options available.
How to deposit with ecoCard
If you still want to opt for an ecoCard you can make a deposit at any of the recommended online casinos from the list above, in the same manner as making a deposit with a credit or debit card. Enter the name and number on the card, as well as the expiry date and the CVV (three-digit number on the back of the card).
As we have mentioned, EcoCard is accepted everywhere MasterCard is accepted and therefore you will find a huge range of online casinos accepting the global payment brand – but only opt for the secure ones, as we explain below.
Pros and cons of using ecoCard at secure web casinos
There are quite a few drawbacks to using ecoCard, unfortunately. While the service makes it incredibly easy to deposit at online casinos thanks to the prepaid nature, it works better with US and European players due to the available currencies.
The ability to withdraw funds from your ecoAccount onto your ecoCard and withdraw from an ATM is quite appealing – but the lack of currency options hinders this benefit.
Additionally, there are fees involved every time you make a deposit with ecoCard and every time you withdraw funds from an ATM.
Under ecoCard's terms of use, gambling transactions are considered to be 'Cash Services' and therefore incur a 4% fee. This fee isn't incurred by the online casino or MasterCard, but ecoPayz. Additionally, when you withdraw the funds from an ATM there is a 2% fee incurred.
If these fees have put you off, perhaps check out the prepaid voucher PaySafeCard, or use the web wallets Neteller or Skrill at the verified online casinos listed above.
Is ecoCard secure?
ecoCard is a prepaid method meaning it allows you to load funds from your personal bank account to use at online casinos. This provides another layer of security between your personal finances and the Web casino. Additionally, ecoPayz utilises the latest encryption technology to protect any data entered by users is secure and protected.
What's more, if you opt for a verified online casino including all listed in the table above, you will further be protected by their encryption technology – the same which major banks use.