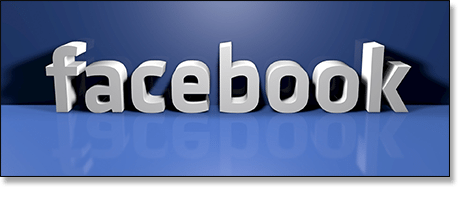 Facebook is filled with multiple fun and entertaining options for you to play with, including changing your language to pirate – yes we said pirate. But Facebook also allows you the opportunity to play online blackjack via your smartphone, computer or tablet – and the best part about it, is you can even play it in pirate language.
While these social blackjack casino games available on Facebook aren't as good as online casino blackjack games due to limited variety, no real money gameplay, and reduced quality and graphics. But if you do want a social, playful aspect to your online games of 21, Facebook is a good platform which also allows you to share your gaming experience with your Facebook friends.
Facebook is used by over 1.19 billion users, and many online gaming software developers use this social network to advertise their blackjack app games, specifically designed to be played through Facebook. However, the problem we see with such blackjack titles are the apps/games are designed for free play (it is illegal to promote real money blackjack apps on Facebook). While some apps may work around such restrictions to offer real money play, these can be misleading and untrustworthy sources.
But if you're in the hunt for simple social blackjack games that can be enjoyed for free play, Facebook blackjack provides a good forum for this type of game sharing, because you already have a social network of friends. Some Facebook groups even have set times each week so they can get together for a game of blackjack.
Here's a look at how to play Facebook blackjack and some of the Facebook blackjack apps available, including specific game applications for the major smartphones to see how they stand up in comparison to online casino titles, as well as the security on the Facebook platform.
How To Play Facebook Blackjack
First off you will need a Facebook account. This shouldn't be too hard since over a billion people have an account with them. Then, if you know the title of your blackjack app simply type it into the search bar up the top of your dashboard and it should come up.
Otherwise, head over to the Apps section on the left hand side of your Facebook dashboard, and click on Games. This will take you to a control panel of options and to play blackjack you will need to type it into the search bar. An array of options will come up – click on play now and you will be asked if the app can take use your basic information, as well as who you want seeing what you are up to on your timeline, which can be modified to 'only me' if you don't feel like sharing. You will then enter a realm of blackjack via Facebook. The graphics are very simplified but you can easily access these apps via you computer, smartphone, or tablet.
Facebook Live Blackjack 21
Unlike the majority of blackjack Facebook games where you remain in the Facebook platform, Live Blackjack 21 takes you to a page where you can choose between heading to the Apple app store or to Google Play. This app is only designed for your smartphone or tablet, and can't be accessed on a computer.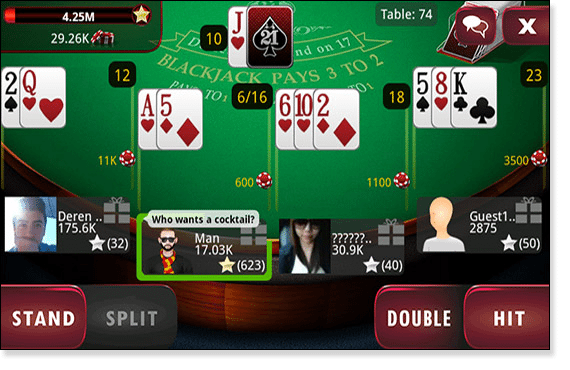 Created by Abzorba Games, this is probably the best Facebook blackjack you will be able to find due to the functions such as live chat and challenge friends.
It does include trivial aspects such as swapping cocktails and having your avatar dress up in different outfits, which can subtract from the professionalism of the app. Regardless, Live Blackjack 21 received a runner-up award for "Best App Ever Award in Cards & Casino 2011". LiveBlackjackPro was also listed as the best multiplayer version of Facebook Blackjack.
50 Cent's Blackjack
Now this is one that would be fun to play with the pirate language setting. The Facebook app is a pairing between Game Show Network Digital and the famed rapper/actor 50 Cent; bringing a virtual casino to Facebook players. If you take gambling serious, this probably isn't for you, as the main idea behind it is to experience what blackjack would be like if famous rappers served as the dealers. When it first came out, GSN Digital stated they hoped it would be an unparallelled social gaming experience, but it currently acts as a novelty game.
Graduating from Facebook to Real Money Blackjack
Because of legal restrictions due to age and gambling laws, blackjack apps advertised on Facebook aren't allowed to offer real money bets. It's just one of the reasons why social media blackjack sucks.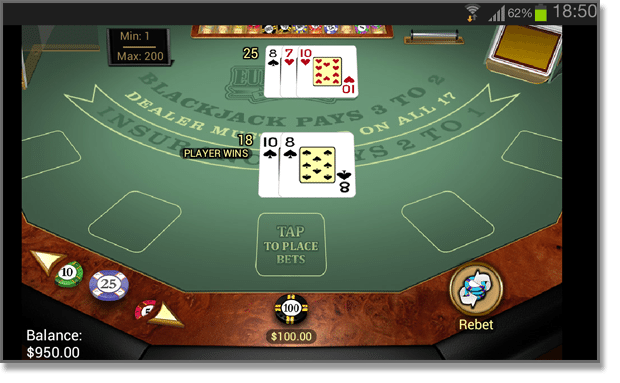 Ad revenue is how casino gaming and app developers on Facebook get the bulk of their profits, and they can advertise to a very large audience interested in social games. But a large demographic of online players enjoy playing with real money, and so such people are far better served by accessing online and mobile casinos which are regulated and licensed. We recommend the following trusted gambling sites to play mobile, tablet and desktop blackjack:
Royal Vegas Casino
Casino-Mate
G'day Casino
Thrills Casino
Emu Casino
7 Sultans Casino
Legitimate online gamblers mightn't want to waste time on novelty games. We want impressive audio, quality graphics and we want to play for real money, because that is how you win real money. And the above platforms have all of that in abundance.
The thrill of winning is ultimately why we play, so is it always hard to take blackjack games hosted on Facebook and other social media websites seriously when they're coming up with ideas such as 'famous rappers dealing' along with tedious advertisements thrown our way constantly that seem to think they know what appeals to us most.
A Different Take On Facebook Blackjack
One of our recommended online casinos, G'day Casino, offers a weekly Facebook draw – if you have liked G'day Casino's Facebook page, and have ever deposited any real money into your account, you go in the running to win a free $50 bonus every Wednesday. Using the Facebook platform this way gets the thumbs up from us as we prefer at least having the option to play with real money or free credits.