When it comes to blackjack we want to be more concerned with learning the basic strategy than we do with the process behind funding our accounts.That's why the Australian and New Zealand exclusive payment method, POLi, is perfect to make worry-free deposits, so you can focus your attention to the stakes at hand.
Note: POLi has stopped offering its services to online gambling sites, so the information provided in this article is no longer relevant to online blackjack. In addition, online casinos were banned from accepting Australian players as of September 2017 following the introduction of the Interactive Gambling Amendment Bill 2016, so for Australians the content on this page is informational in nature only.
Best real money blackjack sites
Casino
Bonus
Games
Pokies
Signup
What is POLi Payments?
POLi is an online payment method that only Aussie and NZ players can utilise. It basically works in the same way as a bank transfer, however it is faster and only players with participating banks can use the service. It also requires the online casino to offer the method.
You can use it to send money from your personal bank account to the online casino where it will appear in your Internet casino account, so you can play real money blackjack.
Background of POLi
POLi was established in Melbourne in 2006 under Centricom, a company founded in 1999. Initially it wasn't a preferred payment method to fund online casino accounts, but it has definitely grown in popularity.

POLi payments have undergone a lot of trial and error, with the first version operating using ActiveX, a software program that garnered a lot of criticism due to its ability to be easily hacked. This software is no longer available. but the next edition wasn't that popular either due to the fact both Mac and mobile users couldn't access it.
The latest version of POLi has seen the team behind the payment method finally getting it right. It operates on a secure server, is fully operational in-browser, and has been available for Mac and mobile users since 2012.
While major companies such as Jetstar, Virgin Australia, and even Australia Post have signed up with POLi so too have an array of our favourite, reputable online casinos that operate offshore, indicating they cater to Aussie and NZ players.
Fund your blackjack account with POLi
POLi offers players an easy and fast payment method, all you have to do is follow these steps to make the deposit and provided you entered the correct details, and you have enough funds of course, you will have no problems and you will be able to play 21 immediately with real cash.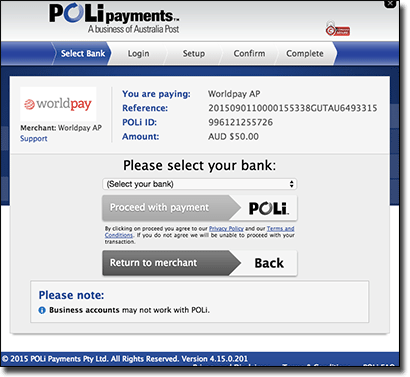 Step 1: Pick the POLi option out of the list of available payment methods
Step 2: Enter the amount you wish to deposit and press next
Step 3: You will be taken to the POLi interface within the window where you can pick your participating bank from the list
Step 4: POLi will connect with your financial institution and you will then be able to enter your Internet banking details
Step 5: The payee information will be filled out for you, all you have to do is confirm the transaction
Your funds will show up in your bank account immediately and you will be able to get playing 21.
Participating banks
You do need to have Internet banking with one of the following banks to use POLi so be sure to check this before opting to deposit with the payment method.
Australian banks
ANZ
Bank of Melbourne
BOQ
BankSA
Bankwest
Bendigo Bank
Citibank
Commonwealth Bank
IMB Building Society
ING Direct
ME Bank
NAB
Newcastle Permanent
People's Choice Credit Union
St. George Bank
Suncorp
Westpac
New Zealand banks
ANZ
ASB
BankDirect
Bank of New Zealand
Kiwibank
TSB Bank
Westpac
POLi security
POLi is incredibly secure as it operates via a proxy, which allows players to access their Internet banking securely via the POLi servers. POLi do not cache passwords so when you do enter your Internet banking details via their servers they do not save these.
Additionally, POLi uses HTTPS transport level security, which is data encryption technology to ensure all transactions are secure, including deposits to your online casino account.
Can I withdraw with POLi?
Unfortunately POLi doesn't allow withdrawals, but there are an array of other safe and easy to use payment methods to opt for when making a withdrawal.
Reputable online casinos that offer POLi
POLi is no longer accepted at online casino sites. Check our guide to alternative deposit methods to see what other banking options are available.