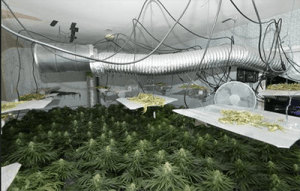 A Vietnamese-Australian has claimed he operated a cannabis grow house to payback blackjack gambling debts.
Van Ri Nguyen revealed he had $220,000 in gambling debts racked up from playing 21 at Crown Casino in Melbourne, as he pleaded guilty to a charge of cultivating a commercial amount of cannabis.
The 60-year-old admitted to owning the grow house in Romsey which had 163.5 kilograms of cannabis – six times the commercial quantity – when discovered.
His six figure debt was accumulated over six months but instead of paying it off, he purchased a $450,000 property. He claimed his debt collectors suggested this to him
Judge Paul Lacava said the decision was a red flag during Nguyen's trial at Bendigo County Court on Monday.
"So Vietnamese heavies at Crown Casino tell him, you can reduce your debt by setting up a cannabis crop," Judge Lacava said.
"In order to reduce this debt, he goes and spends $450,000 to set up.
"It sounds farcical to me."
Judge Lacava noted it wasn't typical for debtors to be forced to sleep on the floor of a grow house to turn on switches and water plants.
The house was purchased two years ago, but suspicions were raised when Nguyen's family hosted a barbecue for neighbours prior to Christmas 2016, as Nguyen wouldn't allow them near the shed where the grow house was located.
Then a month later Nguyen asked a neighbour to put a fence up to stop dogs from wondering onto their property, but Nguyen instead used shade sales to block the view of the shed which raised further suspicions.
But it wasn't the the shade sales which got Nguyen caught – instead it was the theft of power from Powercor.
Powercor contacted Romsey police demanding answers as to why an electronic bypass was being used on Nguyen's shed.
As a result, police visited the property and found a 20,000 litre tank with connecting pipes coming from the shed, as well as a "buzzing" noise from inside.
They returned two days later and raided the property, finding found more than 100 cannabis plants growing in the shed.