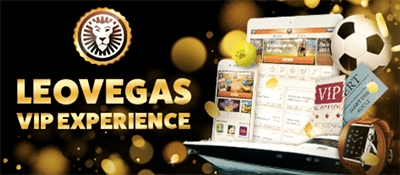 While online blackjack players are already very important players, Leo Vegas casino is offering a brand new VIP Experience filled with the finest services, monthly draws, and more.
You need to have a real money account with LeoVegas.com, which doesn't take long to create. Here you can opt in for the $1000 welcome bonus too – but as a blackjack player, only 10% of your real money stakes count towards the wagering requirements, so keep this in mind.
To opt in for the VIP Experience, select 'Yes' on your account profile page next to 'Claim bonus by default'.
From here you are all set to get playing real money 21 games. There's over 10 Random Number Generated (RNG) blackjack games available, and a huge variety of live dealer 21 on offer. You can track your progress in the VIP Bar in the top right hand screen and be eligible for the VIP monthly draws.
Leo Vegas VIP monthly prize draws
Every month from now on, Leo Vegas will be giving away huge prizes, including VIP event experiences, the latest gadgets, and more, in their VIP monthly prize draws. This month's prize draw will see one lucky player from every VIP level group (see below) scoring an Apple Watch.
VIP Level Groups
The lucky winners who will score the Apple Watch this month will be the highest wagering players of each VIP Level Groups at the end of May. The VIP Level Groups are as follows:
Level 1 to 10
Level 11 to 20
Level 21 to 30
Level 31 to 40
Level 41 to 50
Level 51 to 60
Level 60+
All new players start off on Level 1 and you can advance quite quickly as you play your favourite blackjack, or other casino games.
What's more, players who have reached a VIP Level of 30 or above are rewarded with unlimited withdrawals, free of charge. Players who are on a VIP Level lower than 30 have three free withdrawals for every 30 days – additional withdrawals cost $3.
While this is the first month of the VIP Experience monthly draws, you will also be eligible for the following rewards as you play and progress up the VIP Levels:
Invitations to special VIP events
Dedicated around the clock support
Special payment and withdrawal services
Birthday rewards
Exclusive bonuses
And much more
There's a huge range of blackjack games to get you started at Leo Vegas Casino, so you can earn your way up the VIP Levels and into exclusive events, while wearing all the latest gadgets from Leo Vegas's VIP monthly draws.