While it is still in its early phase an app development company has released a Google Glass blackjack game. The cosmetics are not as pretty as other online blackjack options yet, and you can't play for real money at this point, but the technology is exciting.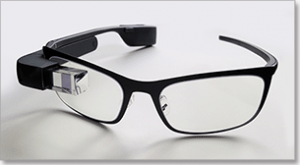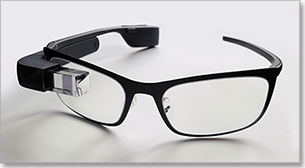 For the uninitiated, Google Glass is a wearable device, similar to a regular pair of eye glasses, packed with ground breaking technology that essentially turns the lenses into interactive screens to create an unparalleled virtual reality. For science fictions fans this type of contraption has been on our minds for years.
We can't underestimate the impact that this type of device will have on the iGaming sphere. Think about it. The ability to have a bevy of information in your eyesight while you play blackjack or poker could be a game changer. For instance being able to see the hand history in the corner of your Google Glass eyewear could help you call out that bluffer.
What is Google Glass?
Google Glass is the first augmented reality device to enter the mainstream public market, bringing with it some huge possibilities. Google Glass is marketed as "smart eyewear that helps you get exactly what you want, in the moment" which is a vague description for what is ultimately a head mounted device that displays hands-free information in a similar format to a smartphone. A 3D-user interface is displayed in the upper right hand corner of the lens which brings digital images to life, allowing the user to see images in front of their very own eyes.
The device works in a similar fashion to today's smartphones and is controlled using a touch pad that is located on the side of the glasses as well as by voice activation. Like the smartphones that we know and love, Google Glass contains WiFi and Bluetooth for Internet connectivity, hi-res camera, speakers, GPS and a microphone along with a range of other features. While powered by an Android system, Google Glass is also compatible for use with iOS products.
If you're wondering why you've never heard of Google Glass, it's probably due to the price tag, which currently sits around the $1,500 mark. Given all that this remarkable device is capable of the price is more than fair, but at the same time it's more than your standard consumer has to spend on luxury gadgets. The use of Google Glass is therefore mostly limited to the gadget lovers and hi-tech savvy users amongst us, which will surely change in the near future as more games and apps become Google Glass compatible. And of course, the inevitable price drop comes.
6 Beyond's Google Glass Blackjack Game
In December 2014 app development team 6 Beyond released Google Glass blackjack, the first game of its kind. The game is relatively basic and nowhere near as impressive as the current online blackjack games on offer at trusted virtual casinos, but it's a fabulous sign of things to come. Google Glass blackjack by 6 Beyond is only available for free play and does not allow real money bets, so while it may not appeal to a lot of online gamblers, it sure provides a promising sign of the direction things are headed for Google Glass blackjack games.
What else can I do on Google Glass?
Google Glass comes with popular every day programs like Facebook, Twitter, web browsing, navigation systems and a range of fitness apps, but the range of games available is still limited. Google Glass has come under two main criticisms by gamers; one is that the devices technology is so far advanced that other platforms are yet to keep up, so most games are yet to be compatible.
The other main gaming downfall is that the games available are not ideally suited for public play, with voice activation or utilising the side touch pad required. The important thing to remember is that the development of these interactive glasses is still in its infancy, so as more innovative technology becomes available and gaming developers keep up, Google Glass definitely holds some exciting possibilities for gaming and entertainment.
Las Vegas casinos ban Google Glass
The future of online gambling and virtual casinos for Google Glass is promising, despite initial roadblocks. Upon release in 2013, Las Vegas casinos banned all use of Google Glasses within the walls of gambling establishments amidst fears that the device could be detrimental to the house or give Google Glass users unfair advantages. The device is now banned from all land-based casinos in the USA. The casino industry's main concern when it comes to table games like blackjack is that the device would somehow make it easier for punters to count cards. This ban wasn't surprising, given that brick and mortar casinos have strict rules against allowing cameras or recording devices, both of which Google Glass contains.
Banning Google Glass from real life casinos doesn't necessarily impact the online casino world. The online gambling industry is working overtime to keep up with the Google Glass technology and exciting possibilities are starting to emerge. Online sports betting agencies are already successfully offering Google Glass compatible services. The virtual casino world is aflutter with hype about the possibilities of Google Glass compatible real money casino games, namely online blackjack and pokies, especially after the release of the first ever Google Glass blackjack app.
Playing blackjack online for real money
While gamers will have to be patient in the wait for real money Google Glass blackjack games, there are plenty of incredible online blackjack games available for real cash wagers in standard online casinos. An awesome catalogue of blackjack variations as well as live dealer blackjack can be played at such reputable sites as Royal Vegas Casino, All Slots Casino and Guts Casino.
While you can play for real money at these casinos (if online gambling laws in your country allow it), you can also play in practice mode, which allows you to hone your skills before spending your own money.
While obviously different than Google Glass format, online blackjack games provide an idea of what we can one day expect to see from virtual reality devices like Google Glass and the upcoming Apple rival product, iGlass.