Redeal 21 is a unique style of blackjack which allows us to have a do-over if the cards don't fall our way. We can choose to swap our own cards for new ones, or have another crack after busting with a bad hit, or even replace the dealer's cards. Sometimes you can redeal for free, while in more dire circumstances you will have to fork over a pretty penny for the privilege.
As with most Internet blackjack titles, redeal games come with plenty of checks and balances to ensure the casino retains a slight advantage over the player. Here, we will outline the common rules and special redeal options, how they affect the house edge compared to other online 21 games, and where international punters can enjoy real money redeal blackjack on the Web.
Note: As of September 2017, online casinos are banned from offering their services to Australian players. The information in this article is directed at international readers only – we do not endorse any casinos for Australian readers.
Best online blackjack sites
Casino
Bonus
Games
Pokies
Signup
Best Online Casinos for European Redeal Blackjack
Several of our trusted Internet casinos stock Gold Series European Blackjack Redeal by Microgaming – the most prolific casino software developer on the Net. Each of these recommended sites allows real cash deposits and withdrawals in multiple currencies, with all transfers protected by advanced 128-bit SSL (Secure Socket Layer) technology. And there's much more than blackjack on offer, with hundreds of online pokies and progressive slots, roulette, baccarat, instant win scratchies, live dealer games, and generous sign-up bonuses.
These are our top sites for online redeal blackjack:
Royal Vegas Casino
All Slots Casino
7 Sultans Casino
Platinum Play Casino

Rules of Play
The bare bones of Microgaming's European Blackjack Redeal Gold are much like any other Euro-style 21 game. Except for the absence of the insurance sidebet (which is irrelevant when using good blackjack strategy), the conditions here are the same as those in the standard European Blackjack Gold game.
These are the basic rules of play:
Two decks
No peek for dealer blackjack
Player loses all bets to dealer blackjack – European No Hole Card rule (ENHC)
Dealer stands on soft 17
Can double on hard 9, 10, or 11
No doubling after splits
Can split only once, up to two hands
Can hit split Aces
Split Ace + 10 does not count as natural blackjack
No surrender
No insurance
Blackjack pays 3 to 2
Under these conditions alone, the house edge stands at around 0.40 per cent when applying the correct strategy for European blackjack. That means for every $100 we bet, we could expect to win back around $99.60 in the long run. However, those numbers don't take the unique redeal rules into account.
How Does the Redeal Feature Work?
There are three options we might be offered during the course of any given hand: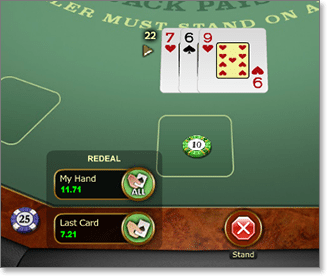 Redeal My Hand – All of your cards will be discarded and replaced with new ones.
Redeal Dealer's Hand – The dealer's upcard will be discarded and replaced with a new one.
Redeal Last Card – Only the last card drawn to your hand will be discarded and replaced.
There are two key points to note here. Firstly: if we decide to split a hand, the redeal option is off the table for the remainder of the round. And secondly: all Ace + 10 hands as the result of redealt cards don't count as a natural 21, and therefore will only pay 1 to 1.
The redeal rule is a fascinating idea that opens up a whole new level of risk/reward blackjack play. The cost of each option tends to correspond with how it would affect the player's chances – so it will be more expensive when you really need it, and much cheaper when you don't.
For instance: if we draw a hard 13 against the dealer's Ace, it will cost us a few bucks to redeal either hand as the advantage is firmly with the croupier; but if we pick up 20 and the house has a Deuce, all options will be free of charge because any change would almost certainly benefit the dealer.
As we are not privy to a fixed list of redeal payouts for any given circumstance, it is nigh-on impossible to accurately calculate how this rule affects the house edge. What we can tell you is that most of the prices offered for a redeal fall less than 1 per cent shy of true odds, and that some quotes are even favourable to the player.
Try real cash European Blackjack Redeal Gold or play for free at Royal Vegas Casino