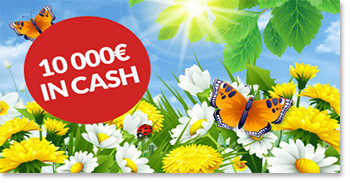 THIS week blackjack players can score some free cash to play with on their favourite variation with Guts Casino's Cash-O-ton promotion.
The promotion has already started, but not to worry we haven't missed too much. Since it is targeting players who are in the Northern Hemisphere for Spring right now and not Autumn, like us Aussies down in the Southern Hemisphere, we don't really need to know why the promotion is on, but basically it is to celebrate the upcoming warmer months, something we are quite envious of.
Even though we are gearing up for Winter and not Summer, we get access to it, and there is some serious cash up for grabs right up until this Sunday (April 19) to use on your favourite online 21 title.
The promotion is in the form of a deposit lottery which will see up to 70 players getting a share of the $10,000 deposit lottery. The weekdays will see 10 winners receiving $100 each, while the weekend days will see 20 lucky winners receiving $250 each over the two days. So while you may have missed the past few days, the best is yet to come.
The promotion works by seeing every $20 deposited gaining an entry ticket into the daily draw which gives one shot at the cash. So if you deposit $100 you get five shots at winning $100, if you have deposited on the weekday, and five shots at $250 if you have deposited on the weekend.
This means you have the opportunity to play all their blackjack variants for longer, including their live blackjack party variant which is quite unique in that there is more than one dealer than the standard live dealer blackjack variants, making it a party.
Guts Casino also offers a wide variety of software providers, rather than a single one – meaning players get a wide variety of blackjack titles to choose from with varying characteristics from each developer.
Guts Casino welcome bonus
On top of this promotion, if you are a new player you are eligible for their new player sign up bonus which can be used in conjunction with all blackjack games offered, on any platform that you may be using such as smartphone, tablet, laptop, or desktop. So if you sign up for Guts, you can make your first deposit of at least $20 and get a ticket to Cash-O-ton, as well as begin the first step of the sign up bonus.
Guts offers new members $300 in matched deposits as a welcome bonus, as well as a generous amount of free spins. Once players have signed up all they have to do is deposit three times for the welcome package to work. The first deposit will see 100% of up to $100 matched, with the code GUTSW1 entered; the second deposit sees 50% of up to $100, with the code GUTSW2; and finally the third deposit sees 50% of $100 again, but with the code GUTSW3.
While we prefer table games, you are also credited with 100 free spins on the slot machine called Starburst, which is worth a spin if you are waiting for your funds to be processed into your online casino account. To get these free spins, 50 are credited to when you make your first deposit, while another 50 are credited to you when you make your third deposit, and then all you have to do is go to the title open it up and the free spins will be there waiting for you in the game.